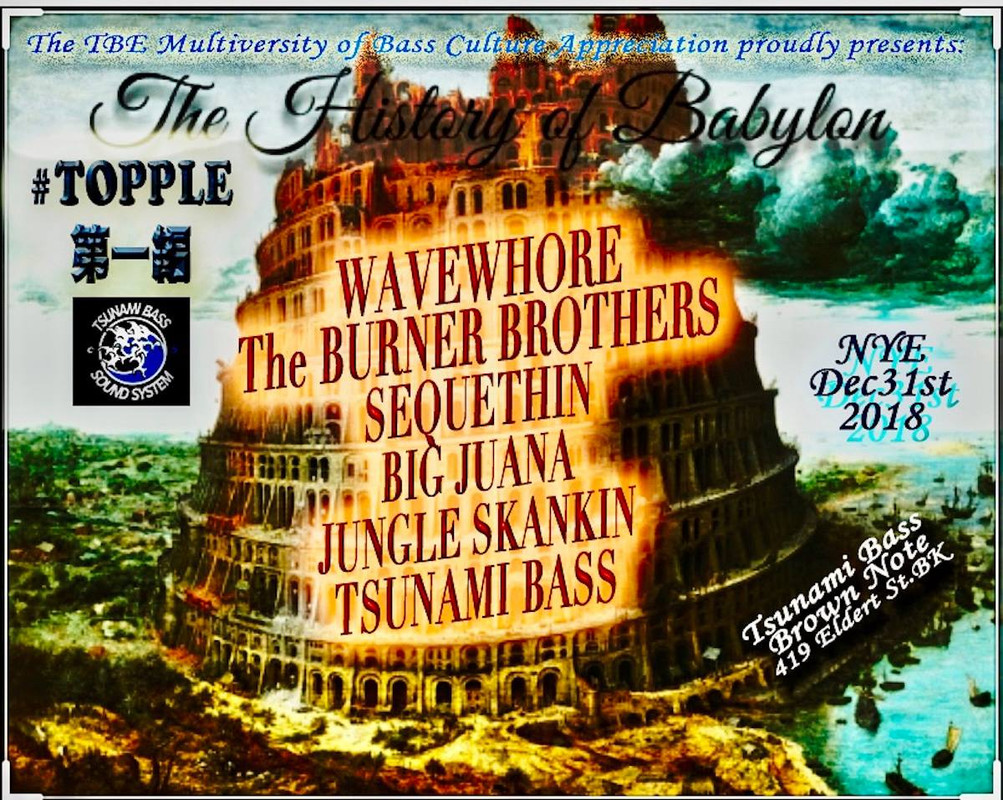 The Tsunami Bass Experience presents…
…::: NEW YEARS EVE - TOPPLE: 01 :::…
Monday - December 31 - 2018
Featuring:
WAVEWHORE
iBreaks - Elektroshok Records - V.I.M. - Hardcore Beats - Broke Recordings - Bombtraxx - Baroque - Electrofly Records - Baroque - Kick It
With releases on high profile record labels such as iBreaks, Elektroshok, Hardcore Beats, Broke, Electrofly and Bombtraxx, New York City based Wavewhore has established himself as one of the USA's leading breakbeat producers. His skills behind the decks have also led to headlining appearances across the US, Europe and Asia as well as a long-running residency at New York City's legendary Sullivan Room. In addition, his music and DJ performances have been featured on many of the world's top broadcast media outlets including BBC Radio 1 London, WKTU 103.5 FM New York, KISS FM London, RTE Dublin, Sirius Satellite Radio and MTV.
http://www.soundcloud.com/wavewhore
http://www.mixcloud.com/wavewhore
THE BURNER BROTHERS
Patrol The Skies Music - Technique Recordings - Formation Records - Nemesis Recordings - Flex Records - Schedule One - Direct Drive
The Burner Brothers is a name synonymous with drum and bass culture in the United States of America. Now comprised of founding members DJ Seen and CT Burners, the New York City based duo have already accomplished a tremendous amount during their career. Since their debut on the legendary Rawkus/Rawkuts imprint in 1999, they went on to release records for Jungle Sky, Subsonik Sound, and their own imprint Patrol The Skies. Their repertoire also includes international releases on Technique Recordings (UK), Formation (UK), Flex (UK), Nemesis (UK), Magic Vinyl (DE), and Steppasoundz (DE).
https://soundcloud.com/theburnerbrothers
SEQUETHIN
https://soundcloud.com/sequethin
BIG JUANA
http://www.bp2dnb.com/big-juana
https://soundcloud.com/hector-mamajuana
JUNGLE SKANKIN
https://www.facebook.com/pg/JSsoundsystem
THE TSUNAMI BASS EXPERIENCE
https://www.facebook.com/pg/TsunamiBassExperience
Venue:
Tsunami Bass Brown Note
419 Eldert St.
Brooklyn, NY 11237
https://www.facebook.com/TsunamiBassBrownNote/
9pm - 6am
Tier 1 starts at $25
Full Bar
Midnight Champagne Toast Included!!
Tsunami Bass is one of New York City's premier sound systems specializing in low-end frequency and this event will be a refuge from the over-commercialized aspects of New Years Eve centered around bass music culture in a proper underground warehouse space. Enjoy the carefully curated sounds of some of New York City's finest DJ's on an optimally engineered sound system away from the fray of Babylon… full bar will be open for business and a champagne toast at midnight is included with entry!! Sounds to include breaks, drum'n'bass, jungle, deep dubstep, bassmusic and intersections thereof!
Facebook Event Page:
https://www.facebook.com/events/651936681870880/
Ticket Link:
https://tsunamibass.bandcamp.com/merch/ ... le-passage