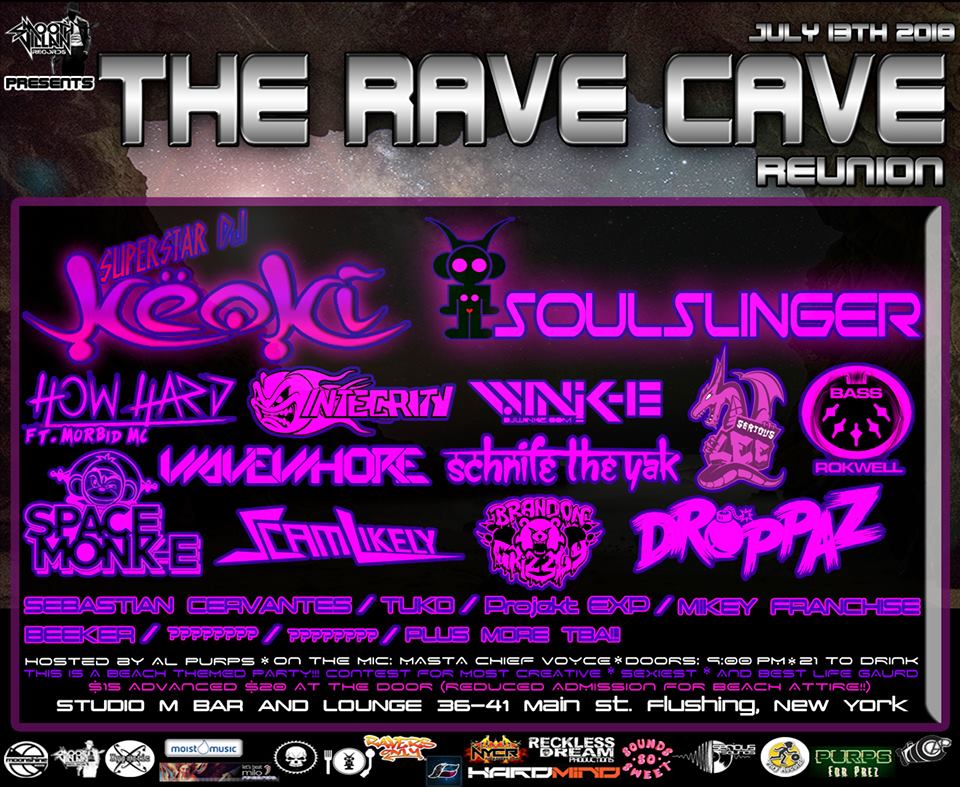 Smooth Villain Records Presents…
…::: THE RAVE CAVE REUNION!!! :::…
[===> Friday - July 13 - 2018 <===]
Featuring Performances By:
****|ı
SUPERSTAR DJ KEOKI
ı|****
(Let's beat milo records/ Moist Music / Keoki Records / Moonshine)
https://m.facebook.com/DJKeoki/
"The undisputed first and most legendary DJ of all time, this Superstar boasts a resume that other DJs can't even dream about. A visionary turned iconic pioneer, Keoki spearheaded the movement and spawned the growth of electronic music around the world. Over two million records sold… Limelight, Party Monster, Ego Trip… five million miles traveling around the world… the ups, the downs, and the fame and fortune; Keoki is truly a living legend - the first, last, and only of his kind. Keoki, now more than ever, still rocks out with the most wicked mind blowing sets you will ever hear always sprinkling in that special Superstar showmanship and signature theatrics. His supporters are understandably fanatical traveling and coming out in flocks from all over if Keoki is playing anywhere remotely close. In the midst of a major resurgence, feeling "rejuvenated, inspired, and more focused than ever" Keoki is the busiest and most productive he has ever been. Most recently he has retreated to the high Denver mountains working relentlessly on his forthcoming album. Being his first full album in almost ten years coupled with star studded list of heavy hitting producers, this is certain to be one of the most highly anticipated dance releases of all time. In support of the album there will be a fully scaled world tour, the debut of his custom clothing line, and the release of his fully detailed career and personal autobiography – and who knows, maybe this will get made into a movie. The legend continues…"
****|ı
SOUL SLINGER
ı|****
(Liquid SKY - Jungle SKY NYC - BRAZIL)
https://m.facebook.com/SOULSLINGER
https://m.facebook.com/lsdsign
https://www.discogs.com/artist/4994-DJ-Soul-Slinger
https://www.zazzle.com/carlossoulslinger
While many modern-day American drum and bass DJs fight for the title of "don", the true American Emperor of Drum and bass is still standing! Frequently referred to as the Russel Simons of the electronic music scene, Soul Slinger the true American electronic music mogul. For years he has been a monumental figure of the past and present state of Electronic Music Culture. Born and raised in Sao Paulo Brazil, Carlos Soul Slinger began his career in the early 1980's. After many years, looking for new direction, Soul Slinger decided to make the move to New York city. In 1989, Slinger opened along Rey , what was to be one of the most important icons of the American rave culture – the store known as Liquid Sky. Liquid Sky is the original "rave emporium" in the United States. Providing clothing, cosmetics, novelties, mix tapes and vinyl. The trend soon followed across the United States with many other fundamental shops such as Satellite Records, Break Beat Science, Dr Free Clouds Mixing Lab, Pure Acid, and many others. DJ Soul Slinger quickly followed up the success of the store with a record label - Liquid Sky Music / Jungle Sky Records. Liquid Sky Music has been responsible for some of the most forward-thinking music to emerge from the New York City underground over the decades. In 1994, he released the Jungle Liquid Sky / Ethiopia 12", being the first release on Jungle Sky Records, and at that, the first American drum and bass production on vinyl. Since then, he has released countless singles, and albums collaborating with everyone from Afrika Bambaataa, Ali Khan, Elliot Sharp, Bill Laswell, Bernie Worell (Funkadelic), Grand Master DST, Derek Bailey, William Burroughs, Ziggy Marley, Dee Lite, Arto Lindsay, Buckethead, DJ Disk, DJ Spooky, Air Liquide, Otto with Bebel Gilberto, Chico Science and Nacao Zumbi, Funk como le gusta, BID ,Cyro Batista,,Suba, Mestre Ambrosio, Soul Coughing, Ben Neil, Neils Peter Molvar, T POWER, Terry Lynn Corrington ,Martin Koller, MC DET, Jamalski, The Swirlies, MINISTRY and others. DJ Soul Slinger was the first so-called American drum and bass producer and DJ who was recognized by the UK Jungle community. In His first interaction overseas in the early 1990s at S.O.U.R-London pioneer jungle SOUR CREAM compilation CD, then he remixed Abducted (94),which became a classic with its remarkable bass line, and Ethiopia. He performed at Woodstock 94 at Saugerties (Ravestock) and then next day, was at the original Woodstock 1969 site, the only DJ to perform! After many years of touring every major destination of the uncharted dnb/rave world, Mr. Slinger in August 2000 create and help produce along GREENPEACE guidelines a 4 day mega music human rights and ecology festival called ECOSYSTEM – a forward-thinking mega-event with the sole purpose of providing attention to rainforest preservation in Brasil. It is the first non-profit electronic music festival environmentally sound to take place in the Amazon Rainforest and one of the largest events in the world. The Ecosystem project managed to bring together representatives from the government, NGOs and artists in aid of a common goal. It shows that the event embraces different sectors of society and that it is a real public interest event as well as it's fun and cultural side, it has both content and official endorsement. Through Soul Slinger's long-standing history as a pioneer in the electronic music scene, he was able to enlist the help of top notch DJs and producers around the globe, dedicated to creating awareness for this unique event, the ecological concerns that currently exist in the Amazon Rainforest and ultimately raise consciousness for every living as an ecosystem, 45,000 attend and was a huge success that change perceptions all over Brasil, Ecosystem 2.0 continued the evolution with the addition of a Brasilian skate pro Championship and the presence of top Brasilian skaters and special guest. Bob Burnquist (American and world champion!),He adopted the concept and GUIDELINES to his own X GAMES!!!!Soul Slinger produced Ecosystem 4.0 in Brasilia,central Brasil ECOSYSTEM 2007=along REP. the all native brazilian nations inside the `MEMORIAL FOR THE INDIGENOUS PEOPLE` and ECOSYTEM 5.0 -2009 in sao paulo. Soul Slinger's unique blend of hip-hop, drum and bass, illbient, latin, and other influences. In the past few years, he has emerged as one of the most popular and sought-after drum and bass and MULTI STYLE EDM DJ's. 32 CD Albums and Compilations in the USA, dozens of publications all over the planet including Germany, Japan, UK and over 100 remixes worldwide.
****|ı
HOW HARD ft MORBID MC
ı|****
(Hard Kryptic Records-Hardmind-Ravers Only-Traumatic Records-Machinecore Records-Red Fever Recordings-Digital Plague Records)
www.djhowhard.com
www.facebook.com/djhowhard
www.soundcloud.com/djhowhard
www.twitter.com/djhowhard
How Hard, aka the Pied Piper of Hardcore, is one of the most recognizable names in the NYC Hardcore Techno scene. Born in New York and splitting his adolescence between the music scenes of both NYC and South Florida, he has spent over twenty years building his music career. Though beginning his musical dissonance in the metal, hardcore, and punk scenes he has been best known for his years pushing Hardcore Techno. Fusing his influences and crossing genre lines, How Hard has been known to embrace many styles within his already powerful sets. When not behind the decks, How Hard is relentlessly in the studio working. As an original artist he has continuously produced, collaborated, and remixed on multiple labels. Looking to further push hard and underground music, he launched his Hard X Music group of labels in 2006 which includes the top-selling imprint Hard Kryptic Records. Hard Kryptic and its sublabels have featured original tracks and remixes by some of the biggest names while emphasizing in discovering the best underground talents from around the world. An ever-growing force in the music industry, How Hard continues to strive to reach new heights in his career while pushing his undying love for hard music.
****|ı
INTEGRITY
ı|****
(NYCRavers, Hardmind, Kikwear, RDP, DJIntegrity.com)
http://www.djintegrity.com
http://www.soundcloud.com/djintegrity
http://www.facebook.com/integritydj
https://instagram.com/dj_integrity
http://www.hardmindproductions.com
For more than 15 years, DJ Integrity has strived to serve and represent the rave community without compromise, influence, or corruption to fulfill the expectations his moniker implies. As a DJ, Integrity's driving, deep, and complex sound has remained consistent, but fine-tuned and modernized along the way. Integrity covers a wide range of trance, hard dance, and techno driven by a psychedelic undertone. He designs his performances as stories with quick and calculated mixing to challenge the mind and body to engage. Integrity has also released numerous mixes and radio broadcasts alongside producing and consulting for events. Influenced by and trained during the late 1990s-era New York City rave scene, supported by prominent promoters past and present, and matured by years of performances, you can rely on Integrity to deliver the authentic rave experience.
****|ı
WINK-E
ı|****
(Paradox Productions)
****|ı
WAVEWHORE
ı|****
(iBreaks-Elektroshok Records-V.I.M.-Hardcore Beats-Broke Recordings-Bombtraxx-Baroque-Electrofly Records– Kick It)
http://www.facebook.com/wavebreaks
http://www.soundcloud.com/wavewhore
http://www.twitter.com/wavewhore
http://www.mixcloud.com/wavewhore
With releases on high profile record labels such as iBreaks, Elektroshok, Hardcore Beats, Broke, Electrofly and Bombtraxx, New York City based Wavewhore has established himself as one of the USA's leading breakbeat producers. His skills behind the decks have also led to headlining appearances across the US, Europe and Asia as well as a long-running residency at New York City's legendary Sullivan Room. In addition, his music and DJ performances have been featured on many of the world's top broadcast media outlets including BBC Radio 1 London, WKTU 103.5 FM New York, KISS FM London, RTE Dublin, Sirius Satellite Radio and MTV. Wavewhore has been called a "breakbeat master" by Liquid Todd (Sirius Satellite Radio) and "one of the USA's finest breakbeat DJ/producers" by Jay Cunning (KISS FM London) while Breakbeat Online described him as "NYC's finest export since the Beastie Boys". His music has also received high level support from many of the top names in the business including Aquasky, DJ Icey, Jackal & Hyde, The Freestylers, General Midi, Elite Force, Annie Nightingale and many more. In the studio, Wavewhore is also focusing on genres such as bass house, glitch hop, dubstep and electro and is currently working on several projects which build on his early production work of drum'n'bass and contemporary dub. These additional musical ventures will continue to feature his signature high energy beats and basslines combined with the quality production and impact that have led to Beatport Top 10 chart listings and a global following.
****|ı
SERIOUS LEE
ı|****
(Serious Sound, RDP, FFC ,NYCR, Zen Co,Ebam Studios)
Soundcloud.com/S3riousl33
Mixcloud.com/S3riousl33
Hearthis.at/S3riousl33
****|ı
BASSROKWELL
ı|****
(Sound Groove Records, EBAM Studios, Serious Sound, Crummy Bears)
https://soundcloud.com/bassrokwell-jaguarpaw
****|ı
SPACE MONK-E
ı|****
(Smooth Villain Records)
https://www.beatport.com/artist/space-monk-e/347794
https://soundcloud.com/space-monk-e
https://facebook.com/djspacemonke
https://twitter.com/PJSpaceMonkE
https://spacemonke.wixsite.com/smpk
Since exploding onto the scene, Space Monk-E has become a household name within the American Dance music culture. Over the past two decades this talented artist has become one of the East Coast's most sought after DJs, thanks to his energetic, hard hitting performances. With styles ranging from Hard Electro to Booty-House, he has an energy and raw talent that many other DJs can only dream of having. Space Monk-E's phenomenal ability of pleasing crowds wherever he spins is one of the many reasons directly attributed in helping him secure residencies at some of NYC's most legendary venues including: The Limelight, Tunnel and The Original EXIT. He has been billed on countless underground events, supporting international stars such as: TJR, DJ Funk, Frankie Bones, and Bad Boy Bill. Staying humble, remaining grateful to his supporters and remaining true to himself throughout the years, has given Space Monk-E the opportunity to reach great heights... The multi-talented DJ is also a well-respected producer. The studio wizard is responsible for many hit tracks like: 'Static', 'Burn', 'Everybody' and 'The Come Up' and his newest wonder 'Get it', releasing on labels such as Late Night Records, Eleonor Records and his very own Smooth Villain Records, a platform dedicated to releasing Space Monk-E's unique productions as well as giving upcoming talents the opportunity to showcase their work to the world. Space Monk-E has been rapidly gaining support from the industry's leading tastemakers, his intricate projects have been making huge noises leading to many of the scene's top blogs reporting on his tracks worldwide. With many more highly anticipated releases scheduled for the months ahead, Space Monk-E's rise to the top of the EDM ladder does not seem to be slowing down any time soon. #MonkELife
****|ı
SCHNIFE THE YAK
ı|****
(Sounds So Sweet)
https://www.facebook.com/Schnife
https://soundcloud.com/schnife-the-yak
Instagram: @schnifethegram
Resident DJ of Sounds So Sweet Playing Just Enough Hard Dance For The Bass Heads Cringe, Just Enough Bass Music To Make The Ravers Shake Their Head In Confusion. All Beyonce, All The Time.
****|ı
SCAM LIKELY
ı|****
(Forbidden Fruit Collective-Ravers Unite-Serious Sound)
https://soundcloud.com/scmlkly
https://twitter.com/scmlkly
https://facebook.com/scmlkly
****|ı
BRANDON GRIZZLY
ı|****
(Kontaminated Recordings)
http://brandongrizzly.com/
https://soundcloud.com/brandon-grizzly
https://www.facebook.com/Officialbrando ... ?pnref=lhc
https://instagram.com/officalbrandongrizzly/
****|ı
SEBASTIAN CERVANTES
ı|****
(-Team No Sleep NYC -Twitch)
www.mixcloud.com/SebastianCervantes/
www.twitch.tv/sinonxo
****|ı
TUKO
ı|****
(Konkrete Jungle/NYC Jump Up)
www.soundcloud.com/djtuko
****|ı
DROPPAZ
ı|****
(Smooth Villain Records)
Soundcloud.com/droppazofficial
****|ı
PROJEKT EXP
ı|****
****|ı
MIKEY FRANCHISE
ı|****
(Reckless Dream Productions)
****|ı
BEEKER
ı|****
https://Facebook.com/beekerdj
https://soundcloud.com/dj-beeker
…Photography By: ****|ı
CASEY ANNE PHOTO
ı|****
...With Your Host: ****|ı
AL PURPS
ı|****
...And On The Mic: ****|ı
MASTA CHIEF VOYCE
ı|****
...Live painting by ****|ı
LONNI MOON
ı|****
+ FREE GLOW STUFF GIVEAWAYS AT THE DOOR!!!
VENUE:
Studio M Bar & Lounge
36-41 Main St, Flushing, New York 11354
Every other Friday for over a year Smooth Villain Records gave a place to call home to some of the best crowds of people and DJs in our scene... now on FRIDAY, JULY 13th, 2018 we reunite to celebrate life in the reunion of THE RAVE CAVE!!
***Featuring:
*2 Rooms of Sound!!
*Over 15 DJS!!!
*Live Painting!
*Vending!
*Rooftop smoking / chillout area!
*Drink specials for 21+!
LIMITED EARLY BIRD: $10 TIX (Sold Out!)
ADVANCED: $15
DOOR: $20 (Reduced Admission For Beachwear!)
Ticket Link:
https://www.eventbrite.com/e/svr-presen ... 6477784304
WE ALWAYS TRIED TO HAVE A FUN THEME FOR YOU GUYS AT THE RAVE CAVE WHEN WE DID SPECTRUM FRIDAYS SO THIS SHOULD BE NO DIFFERENT...
LETS GET INTO THE SUMMER RIGHT WITH A CAMP CRYSTAL LAKE FRIDAY THE 13th BEACH PARTY!!!!! * wo0t wo0t **CONTEST FOR - SEXIEST - BEST LIFEGUARD - BEST BAYWATCH JASON VOORHEES...
Check out the event page for more info:
https://www.facebook.com/events/2017329561838410/