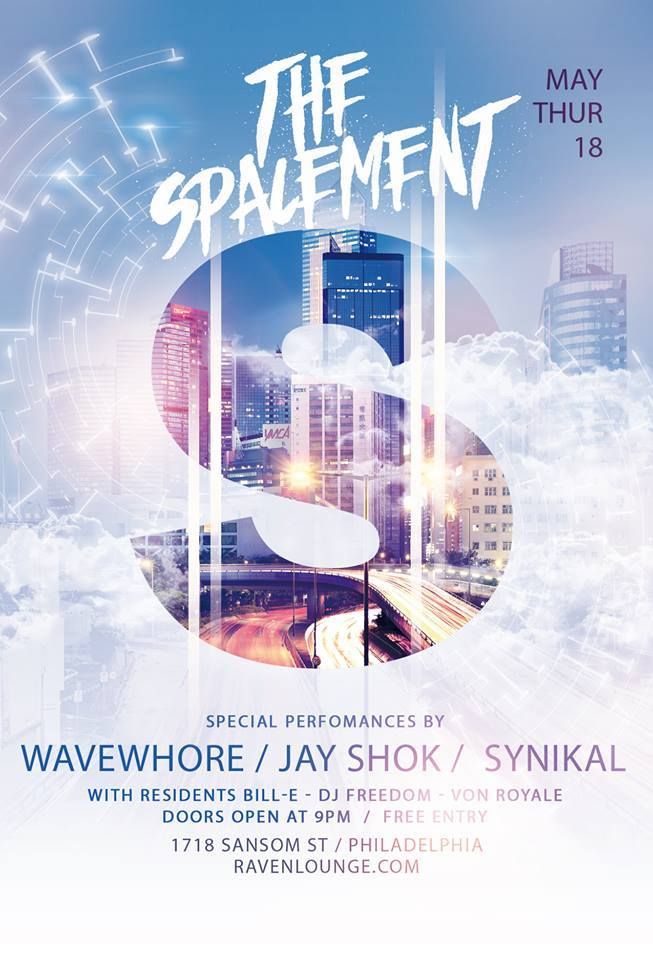 THE SPACEMENT
Thursday - May 18 - 2017
Featuring…
WAVEWHORE
(iBreaks - Elektroshok Records - V.I.M. - Hardcore Beats - Broke Recordings - Bombtraxx - Baroque - Electrofly Records – Kick It - NYC)
With releases on high profile record labels such as iBreaks, Elektroshok, Hardcore Beats, Broke, Electrofly and Bombtraxx, New York City based Wavewhore has established himself as one of the USA's leading breakbeat producers. His skills behind the decks have also led to headlining appearances across the US, Europe and Asia as well as a long-running residency at New York City's legendary Sullivan Room. In addition, his music and DJ performances have been featured on many of the world's top broadcast media outlets including BBC Radio 1 London, WKTU 103.5 FM New York, KISS FM London, RTE Dublin, Sirius Satellite Radio and MTV. Wavewhore has been called a "breakbeat master" by Liquid Todd (Sirius Satellite Radio) and "one of the USA's finest breakbeat DJ/producers" by Jay Cunning (KISS FM London) while Breakbeat Online described him as "NYC's finest export since the Beastie Boys". His music has also received high level support from many of the top names in the business including Aquasky, DJ Icey, Jackal & Hyde, The Freestylers, General Midi, Elite Force, Annie Nightingale and many more.
http://www.facebook.com/wavebreaks
http://www.soundcloud.com/wavewhore
http://www.mixcloud.com/wavewhore
JAY SHOK
(Light It Up - Philly)
For over a decade, Jay Shok has been an essential part of Philadelphia's EDM culture. Working tirelessly to provide positive vibrations, he has more than shown his love through both his music and work within the scene. Since taking over Light It Up Productions, Jay has worked with a variety of people to spread the sound and energy of EDM culture. And you can be sure, whenever he is throwing down, it's bound to be memorable. Delivering some of the freshest mixing Philadelphia has seen in years, Jay Shok takes house, breaks, and electro and makes them his own. He really is one of Philadelphia's best kept secrets.
www.gotshok.com
www.JayShok.com
SYNIKAL
(All vinyl set - Philly)
Synikal brings the fun, funk and straight up fire. Well, if by fire you mean pre-2010, then yes. A true vinyl junkie who is a sucker for a female vocal, funky bassline and no filler. He has been serving turntables for almost 2 decades, has retired twice, and is an all around good dude. He has played with such DJs as DJ Dan, DJ SS, Grooverider, Klute, Freakyflow, DB, Mason, Trust and Dstar, Scott Brown, Dylan, J-smooth, Shimon, Micro, Q-bert, Keaton, Kaskade, Baby Anne and DJ Godfather.
With Support From Residents:
BILL- E

DJ FREEDOM

VON ROYALE
Venue:
The Raven Lounge
1718 Sansom St. Philadelphia, Pennsylvania 19103
http://www.ravenlounge.com
NO COVER!!
9pm-2am
Don't miss our monthly event on the lower level of the Raven Lounge at what's been dubbed "Philly's Boiler Room" for intimate DJ sets from the greatest talents on the East Coast and beyond!!
Facebook Event Page:
https://www.facebook.com/events/1022543057878657/