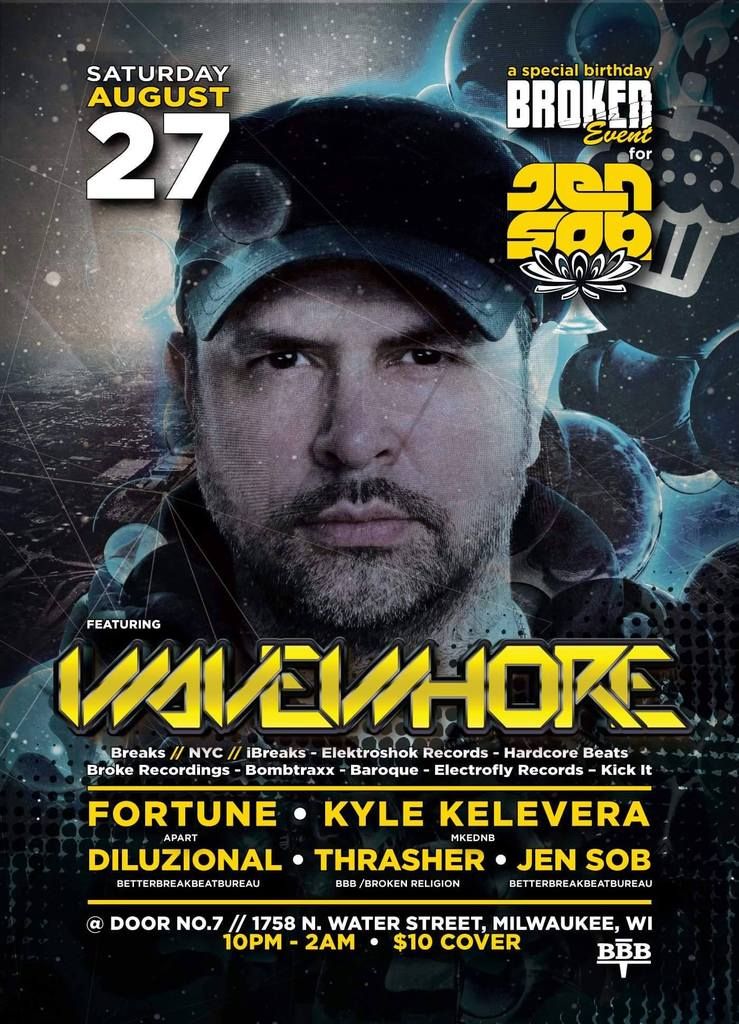 BROKEN
Saturday - August 27 - 2016
Featuring:
WAVEWHORE
iBreaks / Elektroshok Records / Hardcore Beats / Broke Recordings / Bombtraxx / Baroque / Electrofly Records / Kick It - New York, NY
With releases on high profile record labels such as iBreaks, Elektroshok, Hardcore Beats, Broke, Electrofly and Bombtraxx, New York City based Wavewhore has established himself as one of the USA's leading breakbeat producers. His skills behind the decks have also led to headlining appearances across the US, Europe and Asia as well as a long-running residency at New York City's legendary Sullivan Room. In addition, his music and DJ performances have been featured on many of the world's top broadcast media outlets including BBC Radio 1 London, WKTU 103.5 FM New York, KISS FM London, RTE Dublin, Sirius Satellite Radio and MTV.
Wavewhore has been called a "breakbeat master" by Liquid Todd (Sirius Satellite Radio) and "one of the USA's finest breakbeat DJ/producers" by Jay Cunning (KISS FM London) while Breakbeat Online described him as "NYC's finest export since the Beastie Boys". He began his career as a guitarist performing in clubs while he was still in high school and his first electronic release dates back to 1992. His music has also received high level support from many of the top names in the business including Aquasky, DJ Icey, Jackal & Hyde, The Freestylers, General Midi, Elite Force, Annie Nightingale and many more.
In the studio, Wavewhore is also focusing on genres such as bass house, glitch hop, dubstep and electro and is currently working on several projects which build on his early production work of drum'n'bass and contemporary dub. These additional musical ventures will continue to feature his signature high energy beats and basslines combined with the quality production and impact that have led to Beatport Top 10 chart listings and a global following.
http://www.facebook.com/wavebreaks
http://www.soundcloud.com/wavewhore
http://www.twitter.com/wavewhore
http://www.mixcloud.com/wavewhore
http://www.mixcrate.com/wavewhore
http://www.instagram.com/wavewhore
++++++++++++++++++++++++++++
FORTUNE
Apart - Milwaukee, WI
Born and raised in England, Jessica Fenner (Fortune) grew up playing instruments but was hooked on electronic music during the eruption of rave culture in the late 80s/early 90s. Heavily impacted by acts such as Carl Cox, The Prodigy, Roni Size, The Shamen and KLF, by age 16 she had attended many raves & was involved with a local promotions outfit. In 1993 aged 19, she took an unexpected chance to move to California by herself, and two years later landed in Milwaukee where she has lived ever since.
A fixture in Milwaukee and Chicago music scenes, she finally started djing in 1999. Developing her style to include house, broken beats and techno, the elements she grew up with, she played every venue Milwaukee had to offer, performed in all her neighboring states, and multiple times at Chicago locales, Visions, Zentra, DarkRoom, MoonShine, and The Mid. She plays regularly at the legendary Smart Bar and has played several clubs in San Francisco, including the infamous 222 Hyde and The EndUp. She's had the privilege of being booked as direct support for numerous talented artists, including Audiojack, Colette, Catz & Dogz, Derrick Carter, JT Donaldson, Justin Long, Gaiser, Kaskade, KiNK, Johnny Fiasco, Justin Martin, Derrick May, Mike Dearborn, Jamie Thinnes, Miss Honey Dijon, Pezzner, Kid Sister and Green Velvet.
Since '05 she has run her own promotions company, Apart (formerly For U Events), racking up many dj and promotions achievements, including producing multiple weekly parties non-stop for the last 3 years. You see, Fortune's mission is to facilitate happiness through music. "Since those early family parties music and dance has moved me - a gateway to community, growth and joy. Making that available for others, moments to smile, dance or close ones eyes and discover something... that's what fulfills me."
http://www.apart-music.com/artists/fortune/
https://www.facebook.com/JustFortune
http://www.residentadvisor.net/profile/fortune
https://twitter.com/djFORtUne
https://soundcloud.com/djfortune
https://www.mixcloud.com/FortuneMilwaukee
++++++++++++++++++++++++++++
KYLE KELEVERA
MKEDNB - Milwaukee, WI
++++++++++++++++++++++++++++
DILUZIONAL
BetterBreakbeatBureau / Chippendales Male Revue - Kenosha, WI
++++++++++++++++++++++++++++
RYAN THRASHER
BetterBreakbeatBureau / Outlawed Productions / DAYONE EVENT PRODUCTIONS - Milwaukee, WI
http://www.facebook.com/breakbeatmayhem
http://soundcloud.com/ryan_thrasher
++++++++++++++++++++++++++++
JEN SOB
BetterBreakbeatBureau - Milwaukee, WI
https://www.facebook.com/DJJenSob
https://soundcloud.com/jensob
++++++++++++++++++++++++++++
Sound by J.C. Hanna
++++++++++++++++++++++++++++
Lighting by Nightcloud
++++++++++++++++++++++++++++
Visuals by VJ BRYE
++++++++++++++++++++++++++++
Photography by Kevin Whelan Jr. Photography
++++++++++++++++++++++++++++
@ Door No. 7
1758 N. Water Street
Milwaukee, WI 53202
10:00pm - 2:00am
$10 cover
Please join us for another BROKEN birthday celebration, this time for that lovable loud mouth lady, Jen Sob. In celebration of this little squirrelly rascal's birthday, we are proud to bring you a long time master of breakbeat - WAVEWHORE from New York City along with support from Fortune, Kyle Kelevera, as well as residents Diluzional, Thrasher & Jen Sob!! We may be spastic, but it's always good music, good people, good vibes!! BROKEN BEATS ~AND~ 4x4 BEATS TO MOVE YOUR FEETS -- RAIN OR SHINE!!
Facebook Event Page:
https://www.facebook.com/events/1816866458548680/