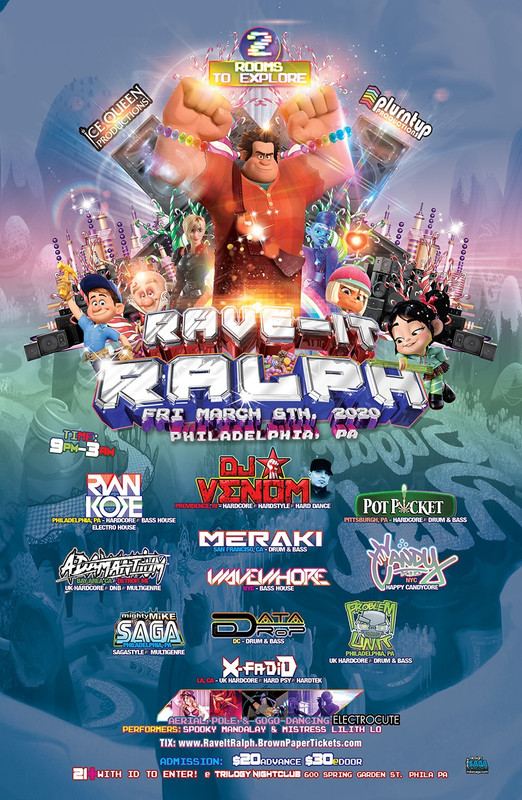 Ice Queen Productions and PlurntUp present…
….:::: RAVE-IT RALPH ::::….
Friday - March 6 - 2020
Featuring:
::VENOM::
Providence, RI - hardstyle, hardcore, hard dance
RYANKORE
Philly, PA - happy hardcore, drum & bass
*Plurtup Productions
MERAKI
San Francisco - drum & bass
*Best Drum and Bass, So Stoked - Team 303 Family
POTPOCKET
Pittsburgh, PA- hardcore, drum & bass
*HJU, Ice Queen Productions
WAVEWHORE
New York City - bass house, house music
*Elektroshok Records, iBreaks, Bombtraxx, Hardcore Beats
ADAMANTIUM (E*Tank b2b A.N.T.)
E*Tank - Detroit, MI - UK hardcore, multigenre
*KFA Recordings, Ice Queen Productions
A.N.T. - Bay Area, CA - Hardcore, drum & bass, multigenre
*HJU, Justice Hardcore
MIGHTY MIKE SAGA
Philly, PA - multi Genre
*Vortex, I Love Industrial
CANDY KID
New York City - happy candycore
*Ravers Only
SIGNIFI
Philly, PA - house
*Plurntup Productions
DATA DROP
DC - drum & bass
*3D Productions, Faction Digital
PROBLEM UNIT
Philly, PA - UK hardcore, drum and bass
*303 Family, Good Vibes
X-FADID
LA, CA - UK hardcore, hard psy, drum & bass, hardtek
*CVLTTR4P Productions, Hard Psy HTX, Oscillatorium Seattle
<<>>
Venue:
Trilogy
601 Spring Garden St.
Philadelphia, Pennsylvania 19123
2 Stages of Sound!!
9pm - 3am
21+
Full Bar
$20 In Advance
$30 At The Door
Join us for this fully themed event! Ice Queen and PlurtUp Productions bringing ALL the hard dance genres to Philly! Featuring heavy weight hardstyle headliner VENOM! 2 rooms of sound! Dnb, hardcore, hardstyle, bass music, bass house, electro house, and more! Sample some sweets at our Sugar Rave room or travel through the internet to race around at our Slaughter Rave room! Amazing aerial and gogo dance performances by our lovely ladies from Electrocute! Battle it out in our game room sponsored by Mashfest NYC! Themed dress strongly encouraged! Come to play around and get down! Get ready to RAVE-IT!!!
Facebook Event Page:
https://www.facebook.com/events/2644646478990174/
Ticket Link:
https://raveitralph.brownpapertickets.com/