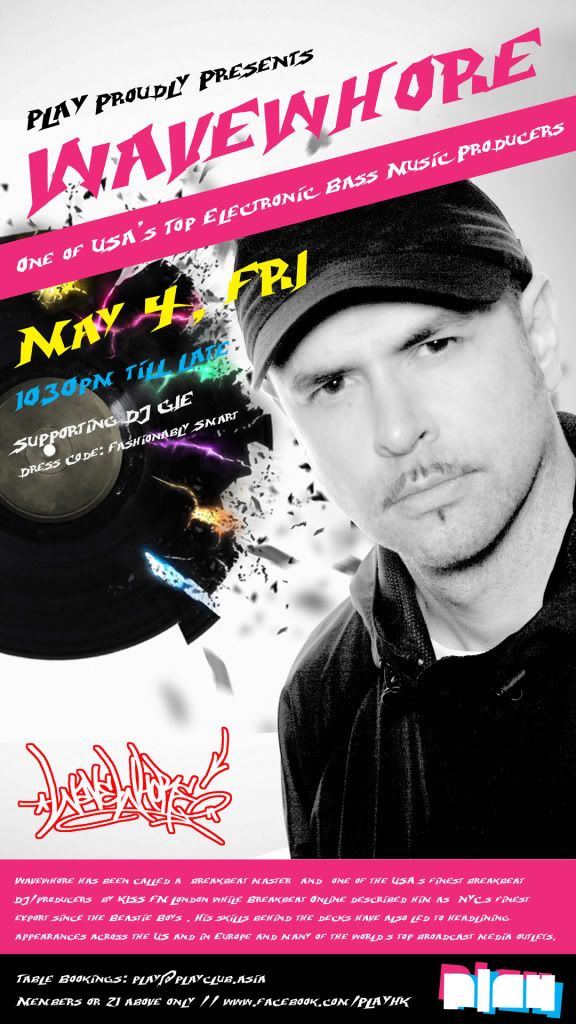 Play proudly presents an exclusive DJ performance from New York City based Producer/DJ/Remix artist Wavewhore, one of the USA's top electronic bass music producers. Sonic support from DJ Gie.
WAVEWHORE
iBreaks - Hardcore Beats - Broke Recordings - Bombtraxx - Electrofly Records – Kick It Recordings - BreaksFM – Scrape Recordings - Nexus Artist Management – New York City, USA
With releases on high profile record labels such as Hardcore Beats, Broke, Bombtraxx, Electrofly and Kick It, New York City based Wavewhore has established himself as one of the USA's leading electronic bass music producers. His skills behind the decks have also led to headlining appearances across the US and in Europe and his music and DJ performances have been featured on many of the world's top broadcast media outlets including BBC Radio 1 London, WKTU 103.5 FM New York, KISS FM London, RTE Dublin, Sirius Satellite Radio and MTV.
Wavewhore has been called a "breakbeat master" by Liquid Todd (Sirius Satellite Radio) and "one of the USA's finest breakbeat DJ/producers" by Jay Cunning (KISS FM London) while breakbeatonline.com described him as "NYC's finest export since the Beastie Boys". He began his career as a guitarist performing in clubs while he was still in high school and his first electronic release dates back to 1992. His music has also received high level support from many of the top names in the business including Aquasky, Jackal & Hyde, DJ Icey, The Freestylers, General Midi, Elite Force and many more.
Now that electro house is incorporating harder-edged sounds and dirty basslines, Wavewhore has also turned his attention to the genre and is currently working on several projects which follow a 4x4 beat structure. In addition, Wavewhore is also producing dubstep and drumstep which build on his early production work of drum'n'bass and contemporary dub. These additional musical ventures will continue to feature his signature high energy beats and basslines combined with the quality production and impact that has made his music popular around the world. For more information about Wavewhore,
www.facebook.com/wavebreaks
,
www.twitter.com/wavewhore
or
www.soundcloud.com/wavewhore
PLAY - Hong Kong
PLAY is back and this time its bigger and better! Utilizing the hot existing brand of PLAY Night Club, its loyal supporters, the largest single floor club in Central, and a prime location in Lan Kwai Fong - the heart of partying in Hong Kong, PLAY has the recipe for a unique never-before-seen venue to hit Hong Kong.
Hong Kong's nightlife industry revolves around some long standing players and our new concept bridges the gap in the market between private lounge clubs and late night venues. With an incredible 8000 square feet site to play with, PLAY will has three rooms, one huge single floor, two DJ booths, two pool tables, two main bars and a separate premium Champagne bar. There is plenty of space for large visual shows, cat walks and stages, whilst entertaining large crowds, making it an ideal destination for premium events
Our interior boasts a proud collaboration between PLAYs design team and UK born local artist, Simon Birch, making PLAY a club with unique style and design. With Simon adding his own creative flair to PLAY, there are examples of his artistic creations as well as a hand-painted fully interactive LED light stage - Play has the perfect versatile stage for any party or personality looking to run events to bring the house down.
PLAY's music will be set in the tradition that people remembered us for, which spurred some of the best parties that HK has seen. A new focus will be placed around our drinks menu and we will be inviting Asia's top mixologists to showcase their best at PLAY. With liquid desserts for the girls, toys for the boys and a small but delicious menu brought to you by Hong Kong's finest Japanese chef, Satoru Mukogawa, there will be enough for you to arrive before the party has even started!
A place where pioneers of Fashion, Art, and Music come together and PLAY.
1st Floor, On Hing Building, 1 On Hing Terrace, 14 Wyndham Street, Hong Kong.
http://www.facebook.com/PLAYHK