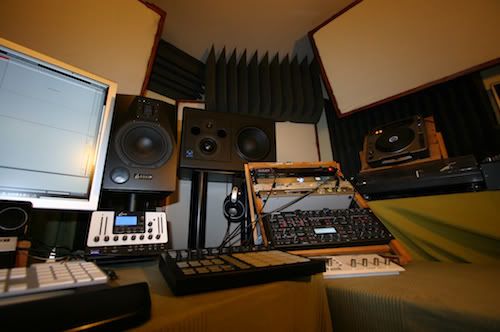 AUX TECHNOLOGY STUDIO
PROFESSIONAL ONLINE MIXING AND MASTERING
Aux was first established as a Record Label and studio facility back in 2008 whilst the company was still based in Bristol. Since the inception of the label, the AUX studio has gradually expanded and developed to become a professional mixing, mastering and production studio providing professional studio services both for the artists on the label and also some of the biggest underground labels and artists in the UK and abroad. Although the studio itself is now based just outside the city, Bristol is still considered as our spiritual home and many of the artists we work with are still based in the city.
We specialise in the production and processing of Electronic Dance music although we also work with more traditional music styles and we are happy to work with any type of music or audio. Attention to quality in audio for us is paramount and for this reason we have hand picked some of the most cutting edge sound tools available to provide the highest levels of quality to all our clients.
WE CAN HANDLE YOUR BASS!
The studio is a custom designed space with professionally designed acoustic treatment which provides an extraordinarily flat frequency response across the audio spectrum. This coupled with our cutting edge monitoring system enables us to accurately monitor audio from 22Kz all the way down to 20Hz without compromise. We have carefully selected the highest quality analogue/digital signal chain to offer exceptional results for all our clients.
PERSONAL SERVICE
Because we are a small business, we can provide a very personal service to all our clients with a turnaround as fast as 24 hours under special arrangement for urgent projects. We are not VAT registered which means that none of our clients have to pay VAT and this is how we can keep our prices so low. We always strive to work closely with all our clients to help them achieve the results they require and are happy to tweak tracks until the desired results are achieved. We can supply low quality MP3 samples of processed tracks so all our clients can hear what they are paying for before any payment is made. Payment can be made by Paypal or bank transfer and for new customers, full payment is always required before masters are sent out.
CLIENTS
We have worked with some of the biggest names in underground dance music and our productions can be heard across the world at festivals, clubs and Radio stations including BBC Radio 1. Our productions regularly break into the Beatport and Trackitdown top 20s and have have been supported by DJs such as Carl Cox, James Zabiela, Annie Nightingale, The Plump DJs, Slam, Anderson Noise, Dylan Rhymes, The Crystal Method and many more.
Artists that we have worked with include Jon Rundell, Meat Katie, Pedro Delgardo, Lee Coombs, Kid Blue, Rektchordz, Mike Hulme, Hedflux, Monk3ylogic, Olmec, Beta, Dr.Fish and many more.
We have also worked with labels such as Ministry of Sound, Mid Town Records, Bombtraxx, Subtribe, Distorsion, VIM and also Diablo Loco who have just won the Breakspoll award for best new label 2012.
EQUIPMENT
Computer:
Mac Pro 2 x 2.8 Ghz Quad Core Intel Xeon
30"Apple Cinema Display
Audio Interface:
Prism Sound Orpheus
Dangerous D-Box Analogue Summing Mixer/Monitor Controller
Monitoring:
Quested V3110 Main Monitors
Adam P-11a Nearfield Monitors
Prodipe Pro 8 Reference Monitor
Mackie HRS120 Subwoofer
Logitech ipod dock speakers
AKG-702 Headphones
Technnics DJ-1200 Headphones
Audio Processors:
Cranesong STC-8 Mastering Compressor/Limiter
Manley Massive Passive Valve EQ
Empirical Labs FATSO Compression/Tape Saturation
UAD-2 Duo
TC Electronic Powercore
Focusrite Liquidmix 32
Sonnox Oxford Plug-ins
Waves Plug-ins
Microphones:
SE-2200T Tube
Rode NT-3
Misc:
2 x Technics 1210Mk2 Turntables
2 x Pioneer CDJ-800s
Mackie D-4 Pro DJ Firewire Mixer
ART PB 4x4 Power Conditioner
Professional grade Van Damme cabling throughout.
DELIVERY
All tracks can be delivered to us using the AUX Yousendit Dropbox:
https://dropbox.yousendit.com/AUX-DROPBOX
They can also be returned to you in any digital format with our Yousendit account. It is a very fast and reliable service and tracks can be delivered within minutes.
Bulk discounts and special deals available for EP/album projects, please contact us for individual pricing to suit your needs:
studio@auxtechnology.co.uk
SPECIAL OFFER FOR NSB FORUM USERS!
As this is the 1st time we have advertised on NSB we are offering all NSB users a special discounted rate of £25/track This is £5 off our standard price and further discounts are available for multiple tracks. Please get in touch if you would like us to give you a quote:
studio@auxtechnology.co.uk
For further info and to hear examples of our work please check out our website:
http://www.auxtechnology.co.uk/studio
and our Soundcloud page:
http://soundcloud.com/aux-technology