[BTX039] Kid Digital - Bangin Machine / New Adventure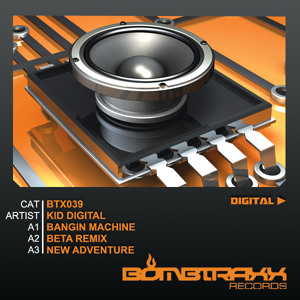 Kid Digital delivers once again with some of that heavy tech-funky breakbeat we've come to love him for. Mixed with a nasty little Dubstep breakdown, this track is thoroughly funktastic. The BETA remix is also on par with a relentless bass assault on top of that deep groove common in his tracks.
"New Adventure" is another heavy and funky banger. Driven by melodic, bouncy bass and b-boy samples, it's a perfect fit for anyone mixing those nu-disco breaks that keep coming out of Russia.
Henry says this release drops "Sometime in May".
_________________
RollsRoyce
Producer/ DJ / Event Promotions
Funkin Family Music
http://www.funkinfamily.com
/
www.floridabreaks.org
[Advanced Breakbeat Sessions every Tuesday Night 1-3am GMT]