When It's Time To Groove Radio
EPISODE : 48
HOSTED BY : KIDD LINUS
hhtp://www.facebook.com/kiddlinus
http://www.soundclolud.com/kiddlinus
http://www.wittgr.podomatic.ocm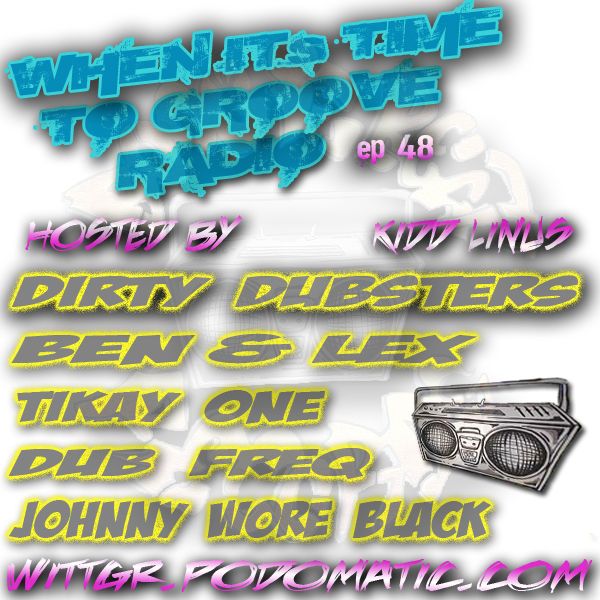 *BEN & LEX - U.K.
APE Music / Functional :
Song: We Are Back FT. Jay Tunes (Single Drops July 30th)
Trailers: MEN IN BLACK 3 (Half a MILLION views on youtube!
http://www.youtube.com/watch?v=aoyV49Ff ... ure=relmfu
)
-Ladies and Gentlemen, Ben & Lex are most definitely back!
After over a year in the wilderness working on other projects - including, in the case of Mr Lexicon, producing & scoring original music for film trailers: MEN IN BLACK 3 (Half a MILLION views on youtube! and LUC BESSON'S LOCKOUT - Ben & Lex returned to the studio to start work on their DEBUT ALBUM after nearly a decade in the game!
WE ARE BACK (TURN IT UP!) is the 1st outing from that mission featuring the mighty JAY TUNS on vocal duties. A ridiculously large slice of party breaks action for fans of the more jacking booty shaking side of things with badboy bass and an awesomely infectious lead line! Tried and tested for a year from GLADE to GLASTONBURY to Germany and has never let them down!
Flip, for an exclusive non LP track theyve revisited their fave single from many moons ago, SOUNDGAL and given it a 2012 140 bpm jungley relick!
So Turn It Up and get on down!
*DIRTY DUBSTERS - U.K.
Irish Moss Records : Dirtydubsters.com
Song: Girls Pon Di Mind Ft. MC Top Cat (Spenda C. Remix)
OFFICIAL VIDEO:
http://www.youtube.com/watch?v=4oqpCgNgX7U
DJ MIX Tarcklisting:
1. Javier Morillas - Police Killa - Unreleased
2. Reds Feat. Deli Sultanant – Fever - Liondub International
3. Mackie B – Legalise it (Jinx in Dub Remix) - Unreleased
4. Clinton Sly - Wheel n Come Again - Cast-a-Blast Records
5. Fatty Boom (Dub Terminator Remix) - white Label
6. Dirty Dubsters feat. Afu Ra – Real Shit (Pimpsoul Remix) Breakdown Records
7. Buzz-A-Buzz – Moombah Herbalist - white Label
8. Dirty Dubsters feat. Top Cat – Girls Pon Mi Mind (Spenda C Remix) - IrishMoss Records
9. Dirty Dubsters Feat. Bass Nacho – Do It! - Unreleased
10. Dubmatix feat The Ragga Twins – Gun Down (Jason DJ Shine Spanu remix)
11. Turntable Dubbers feat. Top Cat – I Like Your Style (Warrior One Remix) - Nice Up! Records
12. Barrington Levy - Murdarer (Itchy & Jacky Remix) - white Label
13. Yoof – Gangster4life - white Label
14. Aphrodite – Ganja Man feat. Deadly Hunta - Aphrodite records
15. Rebel Mc feat Tenor Fly Daddy Freddy Nanci Correia – Get Ready (Chopstick_remix) – Congo Natty
16. Andrew Paul – Who's Going to make the dance ram (Serial Killaz Remix) – Nice Up! Fashion
-Support: Nihal (BBC Radio 1) 'proper summer jungle flex.'
MC Flipside 'ragga at it's best....this is summer monster'
Barry Asworth 'yep straight in the set happy days liking all 3 mixes'
NICE UP Records, BENNY PAIGE and DJ HYPE (KISS FM Show), Crissy Criss 1 Xtra, Jay Cunning, Leeroy Thornhill (Prodigy), Dreadzone, Reid Speed, Laurent Garnier, T Power, Ed Solo, Myagi, HeavyFeet (Unity FM), Soul Of Man, Guy Dmc World Buzz chart
Dirty Dubsters previous support: FORT KNOX 5, ALL GOOD FUNK ALLIANCE , MUNGOS HI-FI, DON LETTS (BBC RADIO 6), HOT PRESS MAGAZINE, PLAYBOY (Hungry), IRISH DAILY STAR.
Dublin's Dirty Dubsters Drop their biggest collaboration to date with Legendary UK reggae Artist TOP CAT. This infectious good time reggae riddim is complimented perfectly by Top Cat&# 039;s sweet flow and catchy lyrics which are all about the girls.
This tune is set to fire up any festival or summer soundsystem and remix action comes from
Brooklyn's LION DUB with a heavy Jungle remix for the bass heads.
Australia's SPENDA C wades in and ups the tempo with a Jacking Moombahton mix complete with crazy Synth line for the raving crew.
Something for all tastes on this release from Irish Moss Records.
*TiKAY ONE - GERMANY
Techno Changed My Life : Facebook.com/tikayone
NEW EP: I'm Not Yours
Song: Shea
Song: Coyote
Song: Howl
-TIKAY ONE is one of the leading producers in Germany. He composed a lot of the songs, tracks on the number 1 album XOXO by the Indie/Rap artist CASPER, which sold more than 100,000 copies in Germany (GOLD STATUS).
Early support on this EP: AMB (ADAPTED RECORDS), K12 (KOSEN, BURN THE FIRE, GOLDEN NEEDLE) DJ GOLD, KILL PARIS, DJ MAD, DJ RON, COP DICKIE, SYMBIZ and many more.
The EP I'M NOT YOURS is TIKAY ONEs first own release. It's being released via the Berlin-based label TECHNO CHANGED MY LIFE, which extends its sound with this release toward high quality dubstep! Five pumping tracks show the huge talent of TiKay One in creating catchy melodies with strangest sounds.
Furthermore the EP includes two remixes by SYMBIZ and AUDHENTIK. TiKay One is always trying to push himself to the limits and is constantly evolving his sound. Maybe he's doing a jazz record next year, but this is about a heavy hitter.
*DUB FREQ - U.K.
Cheese On Bread : Facebook.com/dubfreqofficial
Song: You Know How To Love Me
-With big support from names such as BENGA, MISTA JAM, HATCHA and DISTANCE plus frequent airtime from RADIO 1, KISS100, 1XTRA, and RINSE FM. DUBFREQ's star is certainly rising and his latest offering looks sure to continue his upward trajectory.
CHEESE ON BREAD RECORDS are continuing to embellish their status as a hotbed of homegrown UK electronic talent - their latest release comes from bass musics heir apparent DUBFREQ the 23 year old DJ and producer from London making waves nationwide.
Having perfected his sound tearing down dancefloors all over the UK abroad such as Ministry Of Sound, Ergh @ Cable, Sheffield O2 Academy, The Coronet and Off Corso (Netherlands), DUBFREQ is perfectly placed to join the dots between the underground and wider accessibility with his latest release.
CAN'T YOU HEAR ME CALL has a haunting vibe and features a distinguishing female vocal. It begins as a stiff groove but soon ratchets up with rolling kicks and a wider, sparser sound. The SUSPECT remix offers more than your standard dubstep remix, weightier drums and additional focus on the key arrangement lends itself to a more melodic sound perfectly in tune with summer having landed.
TOOTY FRUITY offers a brighter sound, complete with a gliding lead pattern and traces of wonky glitch. Old school influences are clear with use of a hip-hop vocal sample but the stiff beat has DUBFREQ's signature all over it.
U KNO HOW 2 LOVE ME features garage elements through its distinctive shuffling percussion and detune on the lead bass. The warm sound throughout is provided by the detune on the bass and the vocal track syncs perfectly with the melody to create the perfect soundtrack to this year's hottest summer raves.
*JOHHNY WORE BLACK - U.K.
Single available at itunes.com
Song : Up In Flames (J-Dawg Remix)
-Following the success of their debut single, JOHNNY WORE BLACK, the brainchild of London-based songwriter/producer JOHNNY JAY COEN, is set to release UP IN FLAMES.
Johnny Wore Black features a dynamic line up of musical collaborators and Up In Flames sees the continued involvement of rock royalty DAVID ELLEFSON of MEGADETH on bass guitar.
Accompanying the release of Up In Flames is a Dn'B remix by REBEL SONIX and a drumstep remix from J-DAWG.
REBEL SONIX remix - Larry Holcombe (BOTCHIT, FINGERLICKIN), Phil Guest and AL SWETTENHAM. Fresh from smashing dancefloors with their BACK IT UP E.P which received support from heavyweights such as ORBITAL, LEEROY (PRODIGY) and EDDY TEMPLE MORRIS (X FM) amongst others, AV bass merchants Rebel Sonix are back remixing Johnny Wore Black's 'Up In Flames" (do we need " around song name?). Showing their versatility and ability to cross genres and tempos with ease this remix is a deep, dark brooding Dn'B roller which combines rolling beats, mutoid bass squelches, and ravey keys. The vocal hook from the original states "up in flames I'll take you down" which pretty well sums up what this remix will do!
THE J-DAWG remix - sees Up In Flames reshaped into an infectious Drumstep/Rock hybrid of low-slung guitars and soaring synths whilst maintaining the song's structure and lyrical content. This version will appeal to those that are into the electronic/rock crossover.
Up In Flames comes hot on the heels of Johnny Wore Black's debut single ALL THE RAGE. Released in conjunction with HELP FOR HEROES, All The Rage featured the talent of MEGADETH's DAVID ELLEFSON on bass and was mixed by Grammy award winning producer DAVID BOTTRILL. All The Rage enjoyed coverage in METAL HAMMER, REVOLVER, MUSIC WEEK, ITV NEWS, REVOLVER, KERRANG! TV, BBC RADIO, KERRANG! RADIO. Currently available from ITUNES etc.
Johnny Wore Black is in the process of completing their debut album, WALKING UNDERWATER.