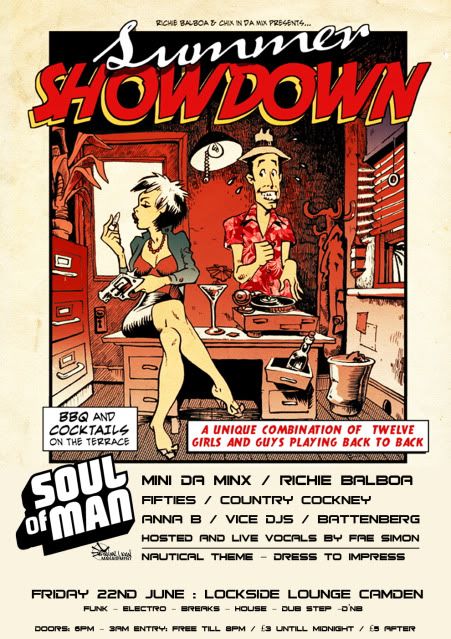 FRIDAY 22nd JUNE
VENUE: LOCKSIDE LOUNDE
WEST YARD, CAMDEN LOCK, CAMDEN, NW1 8AF
DOOR: 6PM – 3AM
ENTRY: FREE BEFORE 8PM, £3 TILL MIDNIGHT, £5 AFTER
Chix in da Mix vs Richie Balboa return for the 5th year to Lockside Lounge for a massive fun filled evening, starting early at 6pm to enjoy the sunshine on the terrace for the longest day of the year.
We are very excited to welcome special guest Justin Rushmore aka Soul of Man, top party DJ and co-founder of the legendary Finger Lickin Records.
Accompanied by Mini Da Minx, the duo, also known as 'Soul of Minx' have rocked Glastonbury every year and many other UK and European festivals, you're in for a treat! The night's eclectic quality music policy will continue with the winner of best breakthrough DJ at the Breakspoll awards, none other than Mr. Richie Balboa, seconded by Mistress eclectica Fifties, editor of popular music blog lifesupportmachine.co.uk.
Country Cockney - a key player in the rise of Supatronix and the Godfather of nufunk scene who has played at international superclubs including Ministry of Sound and Space in Ibiza will rock your world, following a Chix in da Mix resident and long time playa Anna B with her signature deep groove.
The dynamic London based duo Zoe and Kate known as Vice DJs specialising in producing phat beats from jungle to dubstep to moombah will close the night, and we will be kicking off with Battenberg and her funked up selection to set the mood. The event will be hosted by the one and only Fae Simon, who will grace the mic with freestyle throughout the night. Oh and it's dress up again! This year we're sailing the canal – dress nautical!
ELECTRO – HOUSE - BREAKS – FUNK – DISCO – DnB - DUBSTEP
_________________
Mini Da Minx
https://www.facebook.com/dj.minidaminx
http://soundcloud.com/mini-da-minx
Gigs:
7th June - An evening with Krafty Kutz - Cable, London
14th June - Zvuky Leta festival - Tachov, the Czech Republic
15th June - Festival - the Czech Republic TBC
21st June - Chix in da Mix - Lockside Lounge, Camden, London
28th -29th June - Glastonbury Festival, UK
5th - 7th July - Sparkle Festival, UK
The Secret Garden Party
Boomtown Fair
and many more