http://www.guardian.co.uk/world/2012/ma ... h-birthday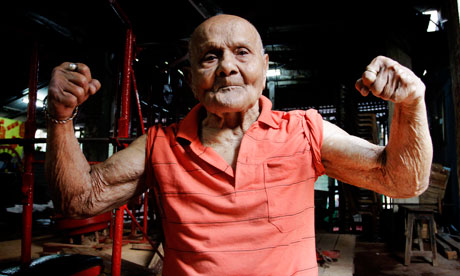 Quote:
A former Mr Universe who has just turned 100 said on Sunday that happiness and a life without tensions were the keys to his longevity.

Manohar Aich, who is 4ft 11in (150cm) tall, overcame many hurdles – including grinding poverty and a stint in jail – to succeed as a bodybuilder.

His children, grandchildren and great-grandchildren gathered with him at his home in Kolkata to celebrate his birthday.

Hindu priests chanted prayers while a feast was served to honour Aich, winner of the 1952 Mr Universe title.

Aich rippled his muscles and flashed a toothless grin for his guests, before saying his ability to remain happy during difficult times was the secret to his long life.